Johns Pass Fishing Charters
Johns Pass Fishing Charters are some of the most popular Florida Inshore Fishing Charters you can take. There are many different species of fish to catch and the runs to the fishing grounds are generally very short. We launch right from Johns Pass which in itself is a great Florida attraction with lots of restaurants, shops and bars. Meet up with your friends or spouse at the end of the trip and enjoy all the amenities of Johns Pass.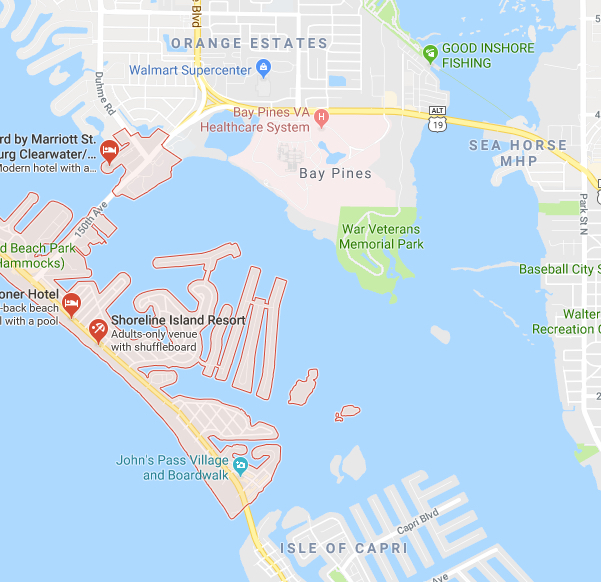 Fish We Catch On Johns Pass Fishing Charters
King Fish

Snapper

Redfish

Speckled Trout

Snook

Tarpon
Good Inshore Fishing is a Fishing Charter owned and operated by Kenny Good.   Kenny is runs one of the premier Johns Pass Fishing Charters and is known for being able to put is clients on fish when others seem to struggle.
Inshore Fishing vs Deep Sea Fishing
The difference between Inshore Fishing and Deep Sea Fishing is that Inshore Fishing is done right along the coast line and in the estuaries of the Gulf of Mexico.  Deep Sea fishing is usually done much further off the coast line sometimes hundreds of miles out.
Inshore fishing is a totally different experience because you are fishing shallow waters.   We do catch some of the same types of fish like sharks, cobia, mackerel, etc.  But with inshore fishing you will many times catch these fish "top-water" meaning they are taking your bait or lure off the top of the water in a violent strike.   We catch Tarpon, Snook, Trout and many other fish this way.
All Rates Are Boat Rates - Up To 4 Fishermen - Gratuity Encouraged
Tarpon Only Available on 3/4 And Full Day Charters
May June July